Tuesday September 30
Monday September 29
Saturday September 27
Friday September 26
Thursday September 25
Wednesday September 24
Do Not Call the Courts
Everyone was a little bit calmer when the Federal Trade Commission launched its national "Do Not Call" registry to foil telemarketers last August. While it's certainly not a panacea, it is a step in the right direction. Now, a 74-year old semi-retired federal judge in Oklahoma, goosed by the Direct Marketing Association, has held the FTC's actions invalid, just days before the registry was to go into operation. Fool.com: Dinner, Interrupted.
It's this kind of muddled logic that gives we lawyers such a bad reputation. Congress appropriated money to fund the FTC list and the agency has long had broad powers over both "deceptive" trade practices and "abusive" telephone solicitations. Yet the court held that the FTC did not have the power to ban unauthorized telephone solicitations because the Federal Communications Commission rejected that option more than 10 years ago, saying that because Congress in 1991 gave the FCC power to make a do-not-call list, the FTC could not do so. Nonetheless, it never addressed whether unauthorized calls can be declared "abusive" or whether the FTC's general powers to engage in consumer protection regulation were sufficient -- without regard to specific legislation on telephone solicitation -- to support its actions. Read the opinion yourself and see.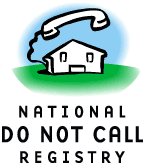 The court's analysis is legal hair splitting at its worst, a pure charade. As the FTC said in response, "Congress passed the Do Not Call Implementation Act, which authorized the FTC to collect fees from sellers and telemarketers to 'implement and enforce the provisions relating to the do-not-call registry.' . . . This decision is clearly incorrect. We will seek every recourse to give American consumers a choice to stop unwanted telemarketing calls."
That's right. Telemarketing is a intrusive, costly and annoying, and the government has a right to stop it. The government here has decided to do so, with specific Congressional approval and funding. Judge Lee Roy West, a good old boy from Ada, Oklahomo who assumed "senior" status a decade ago, should find better things to do with his time. Clarity of thought is not a virtue of the feeble-minded elderly. Maybe we should all call Judge West's house during dinner?

Posted by glenn at
02:57 PM
|
Comments (1)
Tuesday September 23
Sunday September 21
Saturday September 20
Thursday September 18
Tuesday September 16
Monday September 15
Monday September 8
Friday September 5
Wednesday September 3
Tuesday September 2