Wednesday April 30
Tuesday April 29
Monday April 28
Sunday April 27
Friday April 25
Best Player In The World
SI.com - Hockey - Jagr could be offseason trade bait for cost-cutting Capitals
Jaromir Jagr says he "want to be the best player in the world," but the Washington Capitals are considering a trade because he costs too much money.
Well, you can be a great player on a bad team if the rest of the folks are mediocre. Jagr played spectacularly, but his crisp passes were often missed by lackadaisical teammates and when the opposition banged on him -- as Tampa Bay did by beating up his face, leaving him out cold on the ice with a blood-splattered uniform -- no one on the Caps ever retailated.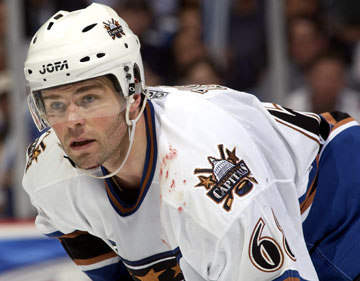 The Caps have asked Jagr to do it alone, which has never worked in hockey. Orr needed Esposito, Gretsky needed Messier, but Jagr's got a bunch of mediocre journeymen.
Ted Leonsis, listen up! You want fans to pack MCI Center, get a good team, a consistently winning team. Don't send players away and go with two-bit has beens and unproven rookies. Pick up a Sergei Zubov -- a real defenseman -- and a Pavel Bure, a Ziggy Palfy or (dare I say it) a Vincent Lecavalier. Get Jagr his Esposito or his Messier, and you will fill MCI Center to the rafters every night.

Posted by glenn at
11:13 AM
|
Comments (1)
Tuesday April 22
Monday April 21
Friday April 18
Thursday April 17
Wednesday April 16
Tuesday April 15
Monday April 14
Sunday April 13
Friday April 11
Wednesday April 9
Tuesday April 8
Monday April 7
Sunday April 6
Saturday April 5
Friday April 4
Thursday April 3
Wednesday April 2
Tuesday April 1