Regulation of the
Communications Functions of the Internet
"A War Between Two Worlds"
A presentation by Glenn B. Manishin at Fall Internet World '96
New York City -- December 13, 1996
---
The Internet is a revolutionary, global medium that combines elements of telecommunications, computing, broadcasting, publishing, commerce and information services into a new model for communications. At the same time, traditional circuit-switched telecommunications and packet-switched Internet services are steadily converging. Thus, while the Internet in many ways breaks all the modes of regulatory classification, its expansion and growth creates both risks and opportunities in the emerging "war of two worlds" between telecom carriers and Internet providers.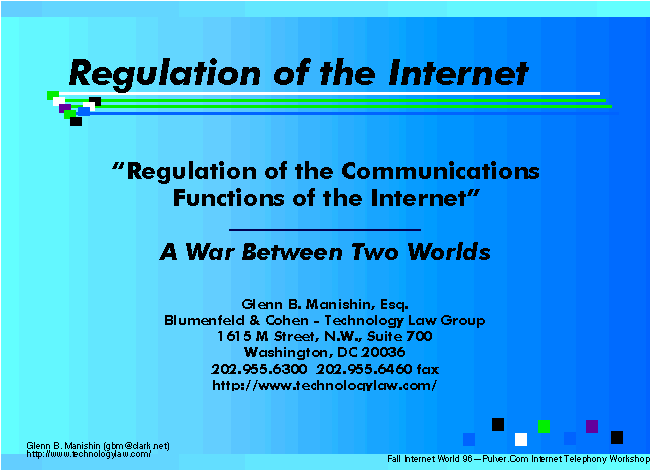 This presentation address some of the cutting-edge regulatory issues raised by the convergence of Internet and traditional telecommunications. It highlights four current areas of controversy that, sooner or later, will likely affect every telephone subscriber and Internet user in the United States, and eventually the world. The regulatory treatment of the Internet is both unsettled and complex. It suggests solutions to some of the more difficult regulatory issues facing Congress, the Federal Communications Commission ("FCC") and state public utility commissions ("PUCs") in an age of technological convergence.

---
Copyright © 1996 Glenn B. Manishin -- glenn@manishin.com